My husband says all the time that he doesn't understand why I wear makeup. He doesn't follow that up with "You're such a natural beauty, you really don't need it". So I have to assume the only issue is that he doesn't like waiting five minutes for me to put it on my face, or that it costs money, either one.
This led me to want to show the reason why I wear makeup. It's quite simple really.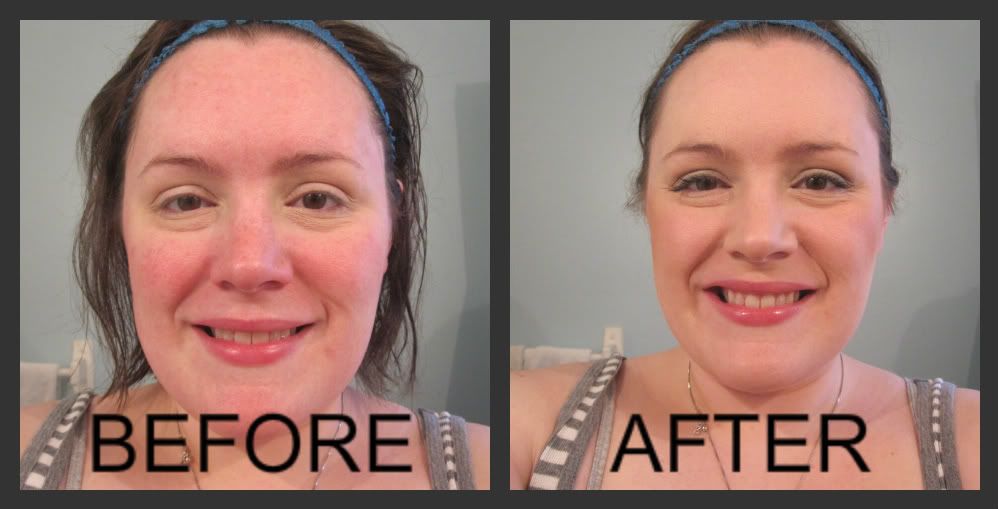 There you have it. My pale, blotchy, tired skin needs a little help. I don't mind helping it either. A few years ago I finally caved and bought Bare Minerals Makeup. I had seen it on infomercials for a while and thought that it was just like every other makeup. It really isn't like anything else I've ever used. It's easy to use, it feels light on your skin, and it provides unbeatable coverage.
I stopped using the Bare Minerals makeup when I was pregnant because I thought I could save a few bucks by not purchasing it for a while, I was miserable without it. I am so glad I went back to it.
Here's my full line up. I just bought the

bareVitamins Prime Time
. You put it on right after your lotion and it smoothes your skin, and, well primes it for your foundation. It's a clear and silky smooth little potion.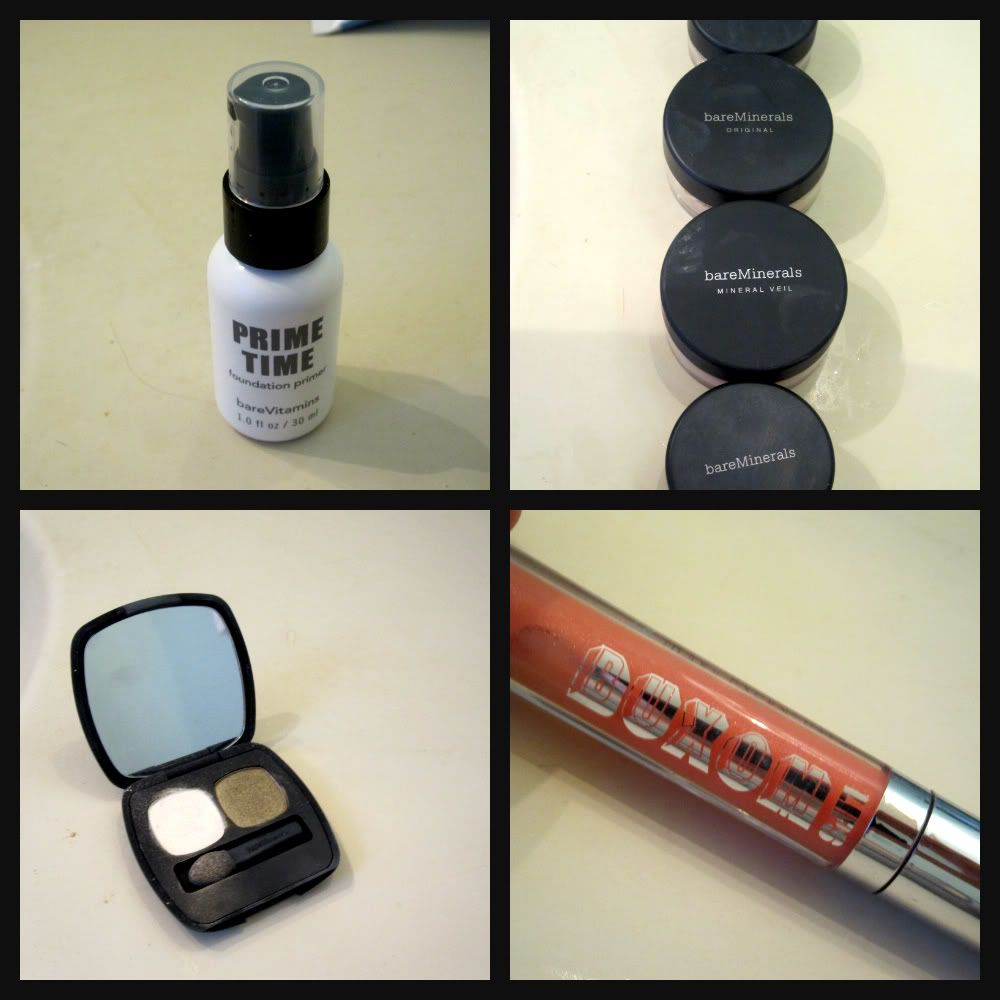 The next thing I use is

Well-Rested for Eyes
. I use my concealer brush and apply it all around my eyes. Then I use

Matte SPF15 Foundation in Fairly Light
. The method you are instructed to use for application is Swirl, Tap, Buff. You empty a small amount of the powder foundation into the cap of the pot, and then you swirl your applicator brush into the powder, tap the brush on the lid to get rid of the excess, and then buff it onto your face in a circular motion. It genius.
Next for the flawless finish I use

SPF 25 Mineral Veil
. The same method is used to apply this light finishing powder. Then I use

All Over Face Color - Warmth
. This is basically like blush and that's how I use it, to highlight my cheeks and a little bit on my upper lids.
Then it's on to
my eyes. I use
Big & Bright Eyeliner Intense Black
at the upper lashes. Then
Ready Eyeshadow in "The Scenic Route"
which compliments my brown eyes really well. It comes in a cute little case with a mirror (you can see above), and also some handy instructions for how to apply the shadow properly for daytime wear or evening. Last I apply a few coats of
Flawless Definition Volumizing Mascara in Black
.
Normally I just wear chapstick on my lips, but I just ordered some of the

Buxom Big & Healthy Lip Polish in Bunny
, and I am in love with it so I have been slathering on some of that on occasion.
If you are considering making a change with your makeup I highly recommend this line, as you can see I am a dedicated user. You can purchase a starter kit to get your feet wet.
I can't see myself ever wanting to use another makeup. I missed it when I wasn't using it. If you have a husband like mine who doesn't understand why we do it, maybe you can show him my before and after photo and see if he can understand a little better.
Just so you know.. These opinions are my own. I was not compensated to write about this makeup, I just wanted to share something that I love with you!